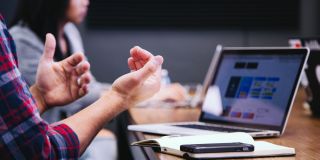 A great website needs fresh content - and that's where your PR team can help
The LarkHill PR website has finally gone live. We hope you like it as much as we do - a huge thank you to the team at A Digital for their hard work.
It's also given me a theme for our first blog - content creation. Which, ironically, is something that has been holding back the go-live date for our website. It quite simply fell to the bottom of our (well, in all honesty my) to do list. And I don't think we're the only ones to be guilty of this misdemeanour!
A brand spanking new, or a refreshed, website is a joy to behold. No doubt it's been planned to perfection and the copy drafted with precision, all ensuring it will serve its purpose of generating leads and sales opportunities, investors, or attract new employees. And if your integrated marketing and comms plan is effective, prospective customers - and potential employees - will be visiting in their droves to learn more about your company, products and/or services.
However, after a couple of months, generating fresh content can slowly make its way to the bottom of the 'to-do' list. And despite all our best efforts, a once fresh website can start to host content that's a little out of date. This is where your PR team can support.
As an owned media channel (see the PESO model), your website is your opportunity to showcase your unrivalled knowledge of the sector and industry in which you operate.
Whether you are a large established global organisation or a new start-up, operating in the world of B2C, B2B, B2G or even B2C2B, your website should always include: an online newsroom that's up to date (after all, it's the only place the magic 'press release publish button' exists); and a blog with thought leadership content that clearly demonstrates the team's wider expertise.
Your website is a place where you can inspire and engage your target customer with insight and opinion that hooks into the themes that matter the most to them. Combining PR and marketing content (gated or not) such as downloadable research reports and white papers, video content including customer testimonials and 'how to' guides, or infographics mapping a customer journey, your website can swiftly become a point of reference for informative and digestible content.
With a deep understanding of your business and marketing objectives, your PR team is perfectly placed to create this content for you. And more importantly align it closely with the current marketing and PR campaign. This helps to ensure that the messages you are communicating to your target audience are leveraging every channel available - those famous multiple touch points.
In addition, if it's link backs from the media you are looking for, having a plethora of fresh new content that provides additional insight for a story or opinion, then all the better.
So, if your website is looking a little bit content light or the last time you posted was pre-pandemic, then why not drop us a line. We can also introduce you to a rather wonderful company that can make your most important digital asset - your website - really work for you.
Written by Niki Hutchinson, founder & MD at LarkHill PR